The Board also receives input on governance from regular meetings of RRI Partners, which often take place simultaneously with meetings of the Board.
BOARD OF DIRECTORS
Margaret Anne (Peggy) Smith
Chair of the Board
Biography
Margaret Anne (Peggy) Smith
Peggy is a Registered Professional Forester with the Ontario Professional Foresters Association. She has taught Policy and Legislation in Natural Resources, Environmental Assessment, Aboriginal Peoples and Natural Resources and Natural Resources Development and Aboriginal Peoples in the Faculty of Law. Her research interests have focussed on the social impacts of natural resources management, especially Indigenous peoples' rights, community forestry, public participation, northern development, and forest certification. Peggy is a member of the Forest Stewardship Council's Policy and Standards Committee and a member of FSC Canada's Standards Development Group. Peggy continues her longstanding affiliation as Senior Advisor with the National Aboriginal Forestry Association, an Indigenous-controlled non-profit organization with the goal of increasing Indigenous participation in the forest sector.
Humberto Campodónico Sánchez
Treasurer
Biography
Humberto Campodónico Sánchez
Humberto Campodónico Sánchez is an industrial engineer and has a Master in Economic Development at the Pantheon-Sorbonne University. He is currently working as a professor at the Faculty of Economics at the National University of San Marcos. He has been linked to the Center for Studies and Promotion of Development (DESCO) and the United Nations Economic Commission for Latin America and the Caribbean (ECLAC), as a researcher since 1984 and as a consultant in 2001 and 2002 respectively. In 2010 he was elected Dean of the Faculty of Economics of the University San Marcos. Between July 2011 and December 2012 he served as chairman of Petroperu. Humberto has been working with RRI since 2013 in supporting the coalition in Peru, Latin America and globally. He has written books and scholar articles about privatization, the public sector, hydrocarbons, and state reforms.
Tapani Oksanen
Secretary
Biography
Tapani Oksanen
Tapani Oksanen began his career as a forest economist and expert in community-based small-scale forest industry development and extension, working for the FAO in Honduras and the highlands of Peru. In the early 1990s, Tapani held the position of Forest Adviser in the development department of the Finnish Ministry for Foreign Affairs (then FINNIDA). His experience as a consultant includes clients such as the Ministry for Foreign Affairs of Finland, Sida, Norad, the Nordic Development Fund, DFID, GTZ, the World Bank, IDB, FAO, UNDP, and the European Commission, with a geographic focus on Latin America, Eastern and Southern Africa, and Southeast Asia. He has held the positions of Managing Director and Chairman of the Board of Indufor, one of the leading forest and forest industry consulting companies in Finland. From 2005 to 2007 Tapani worked as the Task Team Leader for the World Bank Forest Law Enforcement and Governance (FLEG) Program. Tapani lives in Helsinki, from where he continues to engage in consultancy work as an independent adviser. He has M.Sc. degrees in forest products marketing and in the social economics of forestry from the University of Helsinki.
Cécile Bibiane Ndjebet
Member
Biography
Cécile Bibiane Ndjebet
Cécile Bibiane Ndjebet is an agronomist and social forester from rural Cameroon who specializes in women's leadership. Her extensive experience includes work that addresses gender's intersection with land tenure, climate change, and reducing emissions from deforestation and forest degradation in developing countries (REDD+). She was recently named a Champion of the Earth for Inspiration and Action by the United Nations Environment Programme following three decades of advocacy for women's land rights in Africa. Cameroon Ecology, an organization she co-founded in 2001, has restored over 600 hectares of degraded land and mangrove forest. In 2009, she founded the African Women's Network for Community Management of Forests (REFACOF), which encourages the representation of women's interests in environmental policies across 20 African countries. Cécile was elected Climate Change Champion of the Central African Commission on Forests in 2012 and serves as a member of the advisory board of the UN Decade on Ecosystem Restoration.
Gam A. Shimray
Member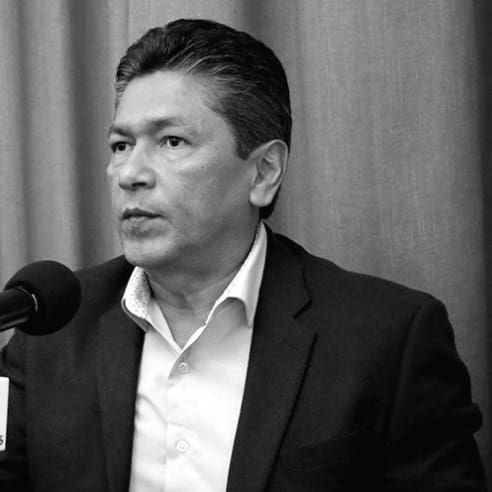 Gustavo Sánchez Valle
Member
Biography
Gustavo Sánchez Valle
Gustavo is a member of the Executive Committee of the Mesoamerican Alliance for People and Forests and President of the Executive Council of the MOCAF Network, a Mexican Network of Forest Peoples' Organizations that has contributed greatly to the development of the country's rural regions. Gustavo also participates in many global forums (FCPF, DGM, etc.) to bring the voice of local communities and has recently been working with RRI and PCN (Proceso Comunidades Negras, Colombia) to influence the United Nations Framework Convention on Climate Change's Platform of Local Communities and Indigenous Peoples regarding the participation and representation of local communities.
Nighisty Ghezae
Member
Biography
Nighisty Ghezae
Nighisty Ghezae is the Chief Operations Officer at The Tenure Facility. Previously, Nighisty was the Director of the International Foundation for Science, Stockholm, and prior to this, she was the Head of Programmes at IFS where she was responsible for coordinating the IFS research program, helping develop strategy and policy, overseeing various research areas, as well as coordinating and evaluating supporting activities provided to the IFS constituency and supervising program staff. Nighisty has broad experience in the creation of international multi-stakeholder networks, engagement in dialogue, and building effective work partnerships. She has also led development processes linking global goals to national priorities. She has excellent knowledge of and contacts with researchers, research institutions, policymakers, and the development community in Africa, the Middle East, and the Mediterranean. She has a BA in economics, an MSc in the legal and institutional management of water resources, a Ph.D. in natural resources management, and a second Ph.D. in international economics (impact of the global economy on Africa and its development). She has more than 30 years of professional experience as a lecturer, researcher, senior network officer, training organizer, program and project leader, and evaluator. She has worked as a development consultant (2004–2007) with UNDP, UNESCO, Sida, DGIS, IDRC, AfDB, Euro Consult, Danida, and the European Union. As project manager with the Global Water Partnership (1998–2004), she managed several integrated water resources management projects and led the work program of four regional offices in Africa and two in the Mediterranean region, as well as coordinating the EU water Initiative in Africa.
Patrick Saidi Hemedi
Member
Biography
Patrick Saidi Hemedi
Patrick is the National Coordinator of the Dynamics of Indigenous Peoples Groups (DGPA in acronym) in the Democratic Republic of the Congo, a network of 45 Indigenous organizations and those working to secure the rights of Indigenous Peoples and improve recognition of their role in protecting forests. He has expertise in advocating for protecting the rights and culture of Indigenous Peoples at the national, regional, and international levels. Under his leadership, DGPA received the 2015 Equator Prize for its successful lobbying for a legal framework in the DRC that promotes and protects the rights of the Indigenous Pygmy Peoples.  He also serves as Vice President of the Board of Directors of the Network of Indigenous and Local Peoples for the Sustainable Management of Forest Ecosystems of the DRC (REPALEF-RDC/REPALEAC) and co-president of the DGM Mechanism in the DRC. Patrick holds a Master's degree in Environmental Security and Global Warming.
Stanley Kimaren ole Riamit
Member
Biography
Stanley Kimaren ole Riamit
Ole Riamit is an Indigenous peoples' leader from the Pastoralists Maasai Community in southern Kenya. His is the Founder-Director of Indigenous Livelihoods Enhancement Partners (ILEPA) a community based Indigenous Peoples organization based in Kenya. Kimaren has extensive exposure and experience in engaging with and influencing international processes and mechanism of interests to Indigenous peoples, in which he has represented the global indigenous Peoples movement in various capacities. He has for example served as Chair of the International Indigenous Peoples Forum on Climate Change (IIPFCC), Anglophone African representatives to the World Bank's Forest Carbon Partnership Facility (FCPF) and most recently as Southern CSOs Active Observer to the Green Climate Fund (GCF) among other important portfolios.
Solange Bandiaky-Badji
Member
Biography
Solange Bandiaky-Badji
Dr. Solange Bandiaky-Badji is Coordinator of the Rights and Resources Initiative (RRI). She also serves as President of the Rights and Resources Group, the nonprofit coordinating mechanism of the RRI Coalition based in Washington, D.C. Bandiaky-Badji previously led RRI's strategy for engagement in Africa with a focus on tenure rights reform. She built synergies around new strategic analyses, giving local and global actors a more strategic understanding of trends, issues, options, and gender in Africa. She also spearheaded RRI's Gender Justice thematic program, and ensured the implementation of a global gender strategy on women's tenure rights. Before RRI, she was with PartnersGlobal, where she led programs on access to justice, security sector reform, and peace-building. She has also worked as a regional expert on gender and climate change for the Africa Adaptation Programme (AAP) and the UNDP/ BDP Gender Team in New York. As Coordinator of RRI, Solange advises policy research, advocacy, and engagement in Asia, Latin America, and Africa and leads initiatives and networks to advance RRI's mission. Bandiaky-Badji holds a PhD in Women's and Gender Studies from Clark University, Massachusetts and an MA in Environmental Sciences and in Philosophy from Cheikh Anta Diop University, Senegal. She has published and contributed extensively to research in relation to natural resource management, decentralization, local forest tenure reforms, and women's participation in climate solutions and peace-building.
Andy White
Member
Biography
Andy White
Prior to helping create and establish RRI, Andy White served as Senior Director of Programs at Forest Trends and Natural Resource Management Specialist at the World Bank, as well as worked as a consultant to the International Food Policy Institute, Save the Children Federation, and the Inter-American Foundation. From 2005 until 2021, Andy was the Coordinator of the Rights and Resources Initiative (RRI) and President of the Rights and Resources Group, the nonprofit coordinating mechanism of RRI based in Washington, DC. He has worked extensively in Haiti, Mexico, and China and supervises policy research, advocacy, and policy engagement in Asia, Latin America, and Africa.  His research and publications have focused on forest tenure and policy, forest industry and trade, as well as the role of forests, communities, and institutions in climate change.  Andy has a PhD in Forest Economics, an MA in Anthropology from the University of Minnesota, and a BS in Forestry from Humboldt State University. He is currently a Visiting Professor of Practice and Engagement at the School for Environment and Sustainability, University of Michigan.