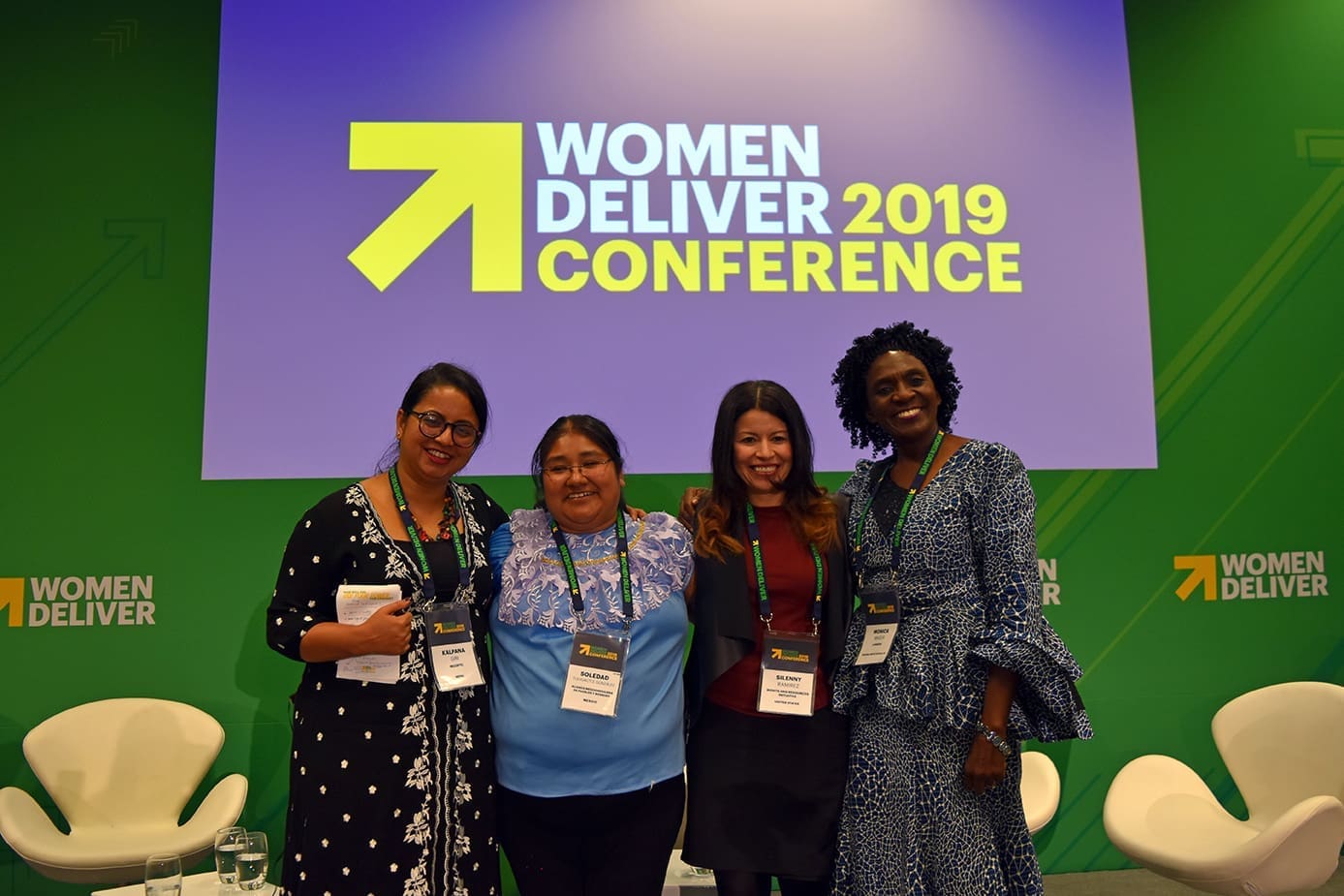 At the most recent Women Deliver conference—the world's largest gathering on gender equality and the wellbeing of girls and women—experts from across the RRI Coalition had the opportunity to learn from diverse leaders around the world, while also raising awareness of the urgent need to recognize the rights of indigenous, rural, and community women. Here's what participants said international audiences need to know about the challenges and opportunities facing this unique subset of women.
Not so long ago, these coffee producers in Bengkulu, a province on Sumatra island in Indonesia, were harvesting during the night to avoid being caught by forest rangers. Despite having lived on their lands for generations, the government considered their activities illegal. Now, the local communities proudly cultivate their coffee in the daylight—and preserve the forest at the same time. The government even provides financing to their cooperative. By supporting the community to care for and harvest from the forest, they are both supporting local livelihoods and ensuring the forest is protected.
The GLF summit presented the first draft of a 'gold standard' on rights, which will define the principles of secure and proper rights to be applied by public, private and non-profit actors in the implementation of policies, business and initiatives in global landscape. "We wish to establish that the respect of our rights is non-negotiable," said Joan Carlin of the Indigenous Peoples Major Group for Sustainable Development (IPMG), which leads the initiative together with the Rights and Resources Initiative (RRI).
The newly-launched "Network of African Land Institutions for Community Land Rights" will capitalize on opportunities to scale up recognition of community land rights in Africa…
RRI is thrilled to be participating in the Women Deliver Conference, the world's largest conference on gender equality and the well-being of girls and women….
At the recent UN Permanent Forum on Indigenous Issues in New York, six indigenous activists and leaders from across the world took a moment to speak to the often unrecognized and under-appreciated contributions made by their communities for the betterment of society, and to address some of the most widespread and harmful misconceptions about Indigenous Peoples and local communities.
Recognizing and securing women's land and resource rights—in law and practice—benefits women, their communities, and their countries. Strong governance rights for women underpin their ability to participate in decision-making affecting their personal agency and economic security, their children's future, and the future of the planet. Just a handful of stories from the RRI Coalition demonstrate how, across the world, indigenous and rural women are fighting for their land and resource rights, and using their traditional knowledge and leadership to contribute to myriad global development goals.
Cyclone Idai is possibly the worst ever weather disaster to hit the southern hemisphere, and it won't be the last. If anything, this disaster has brought home the message that disaster preparedness is inadequate. The design and planning of cities and physical infrastructure should be climate-resilient, taking into account the many important ways in which local community rights and capacities, nature, and nature-based solutions contribute to reducing risks and building resilience. This is particularly pressing as climate change heightens the frequency and magnitude of these extreme weather events, exacerbating the vulnerability of millions of Africans.
The Doi Tung Development Project, run by the Mae Fah Luang Foundation under Thai royal patronage, is held up by the United Nations as a model for ending narcotic drug cultivation and improving the lives of indigenous communities. Yet in other parts of the country, indigenous people continue to live in poverty and face challenges in accessing land, livelihoods and citizenship, according to tribal rights groups.
Washington DC-based Rights and Resources Initiative has done a wonderful job of collating dozens of studies that show that indigenous people and other forest-dependent groups have been effective stewards of forests and biodiversity in hundreds of sites throughout the world.
Indigenous peoples and local communities legally own only about 15 percent of forests worldwide, according to a 2018 analysis by the Rights and Resources Initiative, a global land rights coalition.
Launched by the Rights and Resources Initiative (RRI), the International Land and Forest Tenure Facility is the first and only multi-stakeholder financial mechanism focused on securing land and forest rights for indigenous peoples and local communities. It provides grants to indigenous organisations to help scale up implementation of land and forest tenure reform policies as well as to map and register their lands.
"Those new conservation and climate bodies need to incorporate indigenous peoples. $1 billion was given to preserve 30% by 2030, however we would have achieved this 30% if we simply implemented indigenous rights across 7 countries," said Andy White, Coordinator of Rights and Resources Initiatives (RRI).
The RRI is a global network advocating for the land and forest rights of Indigenous peoples and local communities. As the RRI's coordinator, Andy White travels the world, meeting with Indigenous and community leaders, governments and civil society organizations to discuss how local communities' rights to the forest can be advanced. Here, as part of an ongoing review of community rights to forested lands and key conditions for success led by Tropenbos International, he talks about recent progress and challenges and the role that civil society organizations can play to help people claim their rights as a step toward locally-led sustainable development.
Worldwide, more than 250,000 people were evicted from protected areas in 15 countries from 1990 to 2014, according to Washington D.C.-based advocacy group Rights and Resources Initiative.
"They started the project by taking away communities' land without their consent, using intimidation and all kinds of misplaced government power to evict them from their own customary land," said Kipalu, who now works for the Rights and Resources Initiative in Washington, D.C.
Referring to the estimates of Rights and Resources Initiative (RRI) CSD says the actual potential forest land going to be recognized under FRA, 2006 would be more than 85.6 million acres (excluding five north-eastern states and J&K) and more than 200 million Scheduled Tribes (STs) and Other Traditional Forest Dwellers (OTFDs) in over 170,000 villages in the country are estimated to get IFR rights under FRA.
Despite a perception that land conflicts in India are driven by acquisition of private land, growing evidence shows that a large number of conflicts involve diversion of common land. Nearly a third of over 200 ongoing land conflicts in 2016 involved common lands, according to an analysis by Mumbai's Tata Institute of Social Sciences, a research institute, and the Rights and Resources Initiative, an advocacy based in Washington D.C., USA.
The Indian Supreme Court decision in February to remove millions of forest-dwelling people in five months will not only have devastating human rights implications but also hurt the global struggle to save forests and mitigate climate change, according to numerous experts. Even though implementation of the decision has been placed on hold until July, the homes of millions remains under threat.
The Rights and Resources Initiative Coalition mourns the loss of one of our planet's brightest, most dedicated champions.
"We do not regard this order as pro-conservation. On the contrary, it is a real setback for conservation in India."
A new community forest bill that aims to give Thai villagers more say in managing natural resources is too limited in its scope and risks further marginalising those living outside areas covered by the act, land campaigners said on Thursday.
In 2014, President Joko Widodo had secured a voter bloc of 12 million Indigenous Peoples. But five years later, as he is seeking re-election in April's presidential elections against the same political opponent, Jokowi has failed to secure the endorsement of the Indigenous Peoples Alliance of the Archipelago (AMAN)—Indonesia's largest indigenous network—whose voting bloc has doubled in size since 2014.
Recognition of the role local and indigenous communities have in stewarding forests continued to grow in 2018. More reports and studies argued that securing indigenous peoples' land rights is one of the most cost-effective mechanisms for protecting forests and mitigating climate change. Accordingly, philanthropic attention and dollars shifted toward such efforts, including a pledge by group of 17 philanthropic foundations at the Global Climate Action Summit to support recognition of indigenous peoples' and traditional communities' collective land rights and resource management as part of their land-based climate change mitigation programs. A study co-authored by UN Special Rapporteur on the rights of indigenous peoples and the Rights and Resources Initiative (RRI) even put a dollar figure on the labor and cash indigenous peoples invest in forest conservation efforts, estimating the annual contributions of such "Forest Guardians" at $1.7 billion.