2016
2015
2014
2013
2012
2011
2010
2009
2008
September 20, 2016
Between June and August 2016, the Colombian government made two announcements that will profoundly change the country. After four years of peace negotiations with the FARC guerillas, President Santos announced the Acuerdo final para la terminación del conflicto y la construcción de una paz estable y duradera [Final Peace Accord for the Conclusion of the Conflict and the Construction of Stable and Lasting Peace], moving the country toward the end of one of the longest internal conflicts in the history of the Americas. In the months prior to this announcement, the Ministerio de Ambiente y Desarrollo Sostenible [Ministry of Environment and Sustainable Development] also officially launched the Visión Amazonía 2020 Program, a low-carbon sustainable development model for the Amazon region. This program is part of the country's commitment to reduce greenhouse gas emissions by 20 percent by the year 2030.
Both announcements, linked to profound historic changes in the country, will generate new proposals related to sustainable development, agriculture, and access to land. They will also raise the question of what institutional changes are needed to effectively respond to these new
challenges and opportunities. Given that the implementation of both of these initiatives will coalesce in the territories of the various rural and ethnic populations in the country, it will be necessary to directly address the crucial issue of guaranteeing Indigenous and Afro-descendant
communities' collective rights. This issue will be central to effective implementation of the post-peace accord and climate policies, as well as in achieving economic, social, and environmental sustainability.
June 13, 2016
New research from RRI reveals that 13 submissions to the World Bank's Carbon Fund–one of the most advanced REDD+ initiatives–either fail to recognize the importance of land rights or adequately include local peoples in key decision-making processes.
View Analysis | View Analysis Summary
Framework & Assessments
This report was based on an assessment of 13 countries' submissions to the FCPF Carbon Fund, using an analytical framework and review of the Methodological Framework, developed by RRI.
Costa Rica
Côte d'Ivoire      
DRC
Ghana
Guatemala
Indonesia
Madagascar
Mexico
Mozambique      
Nepal       
Peru
Republic of the Congo
Vietnam
Graphics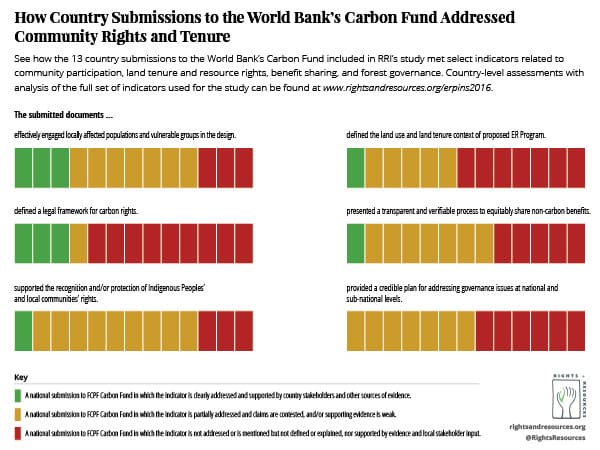 June 13, 2016
A decade after REDD appeared on the international scene, mechanisms to reduce emissions by protecting forests–activities referred to as REDD+–are finally moving from the idea phase to implementation. One of the more advanced REDD+ initiatives is the World Bank-led Forest Caron Partnership Facility (FCPF) Carbon Fund.
However, new research from RRI reveals that the plans submitted by governments to the Carbon Fund fall short where indigenous and community rights are concerned. The 13 submissions reviewed by RRI either fail to recognize the importance of land rights or adequately include local peoples in key decision-making processes. In fact, the World Bank's requirements themselves fail to prioritize these rights.
---
The full report, the analytical framework used to conduct the assessment, the individual country assessments, the review of the Methodological Framework, and full citations can be found here.
June 1, 2016
The DRC is home to some of the world's most important forests and biomes, so reducing deforestation quickly and efficiently is an important part of global climate change mitigation. This paper aims to help by estimating the potential cost of compensating people affected by the proposed expansion while respecting the principles of Free, Prior, and Informed Consent (FPIC).
It provides a set of basic recommendations that might help to reduce physical and economic displacement through site selection, policy design and alternatives to protected areas. By treating local peoples as partners in these protected area initiatives, those establishing and maintaining protected area networks can cut costs and speed up implementation.
April 21, 2016
This brief presents a review of 161 Intended Nationally Determined Contributions (INDCs) submitted on behalf of 188 countries for COP 21 to determine the extent to which Parties made clear commitments to strengthen or expand the tenure and natural resource management rights of Indigenous Peoples and local communities as part of their climate change mitigation plans or associated adaptation actions. Of the 161 INDCs submitted, 131 are from countries with tropical and subtropical forests.

View the brief | View the Analysis Summary | View the 1-Page Summary
The document is also available in Spanish and Portuguese.
Graphics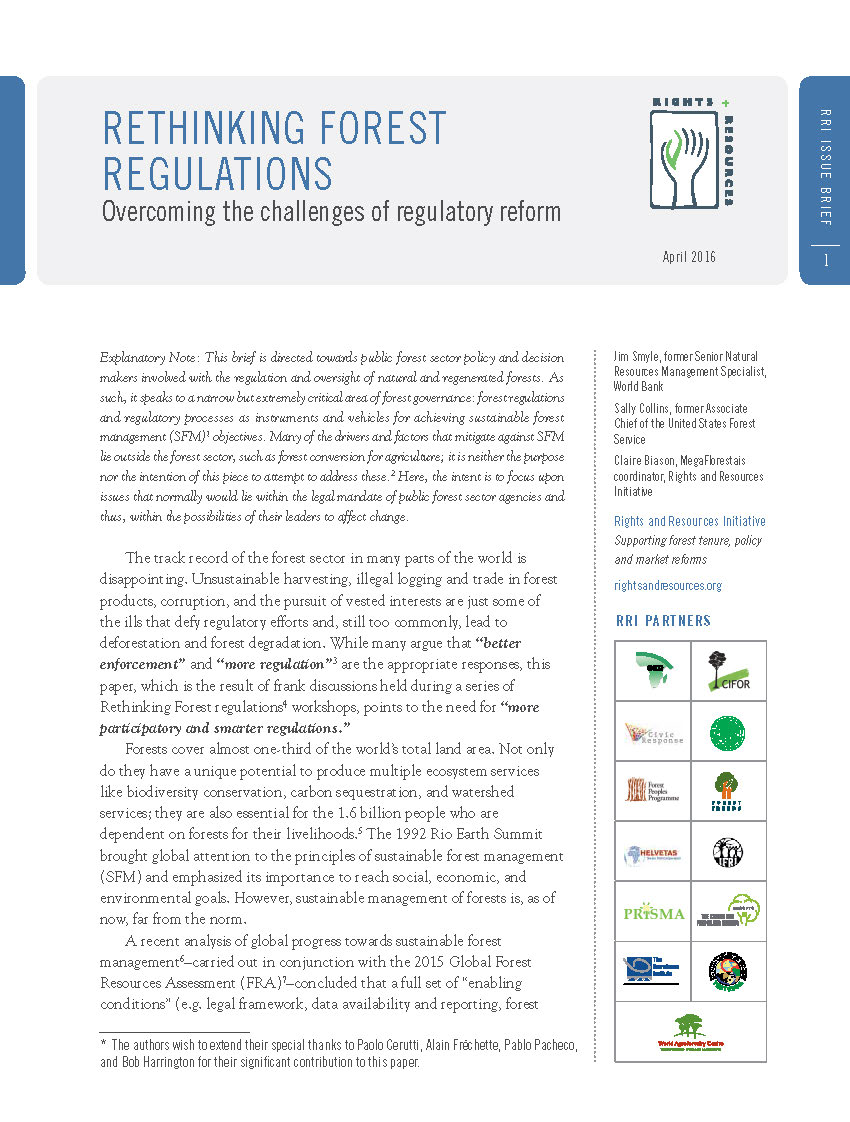 April 10, 2016
This brief is directed towards public forest sector policy and decision makers involved with the regulation and oversight of natural and regenerated forests. As such, it speaks to a narrow but extremely critical area of forest governance: forest regulations and regulatory processes as instruments and vehicles for achieving sustainable forest management (SFM) objectives. Many of the drivers and factors that mitigate against SFM lie outside the forest sector, such as forest conversion for agriculture; it is neither the purpose nor the intention of this piece to attempt to address these. Here, the intent is to focus upon issues that normally would lie within the legal mandate of public forest sector agencies and thus, within the possibilities of their leaders to affect change.
This brief is also available in French and Spanish.
April 10, 2016
Just over a decade ago, several forest agency leaders from around the world met in Beijing, China at a conference convened by the Rights and Resources Initiative (RRI), the State Forestry Administration (SFA) of China and the Chinese Center for Agriculture Policy (CCAP). As leaders—from Brazil, China, Mexico and the USA—we reflected on how few opportunities existed to learn from one another to discuss forest issues in an informal atmosphere outside of the protocol-laden, jurisdictionally-defined sessions we commonly attended. We wondered whether there was a better way—whether it was possible to have safe conversations where difficult issues, struggles and mistakes could be raised, acknowledged and learned from.
From this first conversation, MegaFlorestais was created: a self-governing group of public forest agency leaders with RRI serving as the Secretariat and main funder.
The period of 2005-2015 brought changes in forest governance, the status of forest ownership, the health of the world's forests and the global context within which forestry decisions are made. But much has remained the same. Was MegaFlorestais a factor? What can be learned from reflecting on these changes in a decade?
Read the retrospective in Spanish, French, or Chinese.
March 1, 2016
Up to 2.5 billion people depend on indigenous and community lands, which make up over 50 percent of the land on the planet; they legally own just one-fifth. The remaining land remains unprotected and vulnerable to land grabs from more powerful entities like governments and corporations. There is growing evidence of the vital role played by full legal ownership of land by indigenous peoples and local communities in preserving cultural diversity and in combating poverty and hunger, political instability and climate change. The importance of protecting and expanding indigenous and community ownership of land has been a key element in the negotiations of the Sustainable Development Goals and the Paris Agreement on climate change, and is central to their successful implementation. This report launches a Global Call to Action on Indigenous and Community Land Rights, backed by more than 300 organizations all over the world. It is a manifesto of solidarity with the ongoing struggles of indigenous peoples and local communities seeking to secure their land rights once and for all. Learn more about the Global Call to Action at landrightsnow.org.
Infographics
February 3, 2016
Liberia holds some of the last remaining, intact forests in West Africa and so reducing deforestation quickly and efficiently would be important in global climate change mitigation efforts. This paper aims to help by providing a rough sense of how many people might be affected by the protected area plans. It then examines evidence on compensation costs to give a sense of the budget that might be required if principles of Free Prior and Informed Consent (FPIC) are respected per Liberia's new Land Rights Policy.
February 3, 2016
In recent years, sectors like mining, energy and agriculture have seen a substantial increase in disputes with local populations over land and resource rights, which threaten the viability of projects. The problem is particularly acute in emerging markets, where 93 percent of concessions are inhabited. We refer to this problem as "tenure risk".
Conversations with a range of investors and companies indicated that handling this risk was not only impossible using current approaches, but also, that coverage for the risk may well be excluded from standard forms of insurance. Addressing this problem requires close analysis of tenure risk, and better tools for translating those lessons into concrete action.
February 3, 2016
The annual review of the state of rights and resources, 2015-2016. Ten years ago, it was a struggle to make indigenous and community rights part of global discussions on forest conservation and climate change. By the close of 2015 it was clear that the case had been made. There is still much further to go, with millions of Indigenous Peoples and local communities lacking legal rights to the vast majority of their customary lands, putting at risk their livelihoods and the sustainability of hundreds of millions of hectares of forest.
February 3, 2016
Major strides have been made in global policies on climate change and sustainable development. Both the Paris Agreement and the Sustainable Development Goals (SDGs) fail, however, to take advantage of recent scientific findings that confirm what forest dwellers have long known: effective environmental governance is best achieved through community-based approaches